Submitted by Paulene Christie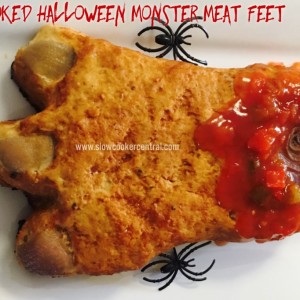 Monster Meat Feet!
Ingredients
1 kg chicken mince

1/4 cup fine grated Parmesan cheese

3/4 cup breadcrumbs

1 egg

1 brown onion grated

Salt & Pepper

I red onion

1/4 cup bbq sauce to baste

Jar tomato salsa
Instructions
Combine first 6 ingredients in bowl and mix well to form meatloaf

Lay out a sheet of baking on bench. Be sure it's the right size to fit the base of your slow cooker

Place the meatloaf mix on baking paper. Using your hands mould it into a monster foot shape

Cut a thick slice of red onion and lay it in place for 'ankle/leg bone'. Cut toe nail shaped pieces from red onion and push them into position on toes.

Baste foot with bbq sauce using pastry brush. You may like to repeat this basting occasionally during cooking also for more depth of colour.

Carefully lift by paper and lower foot into slow cooker.

Cook on high for 2.5hrs with tea towel under lid.

When cooked carefully transfer to plate (I lifted it using 2 egg flips slid under the loaf) and decorate stump with salsa to look like blood.

Serve at your next spooktacular Halloween party!