Submitted by Elizabeth Child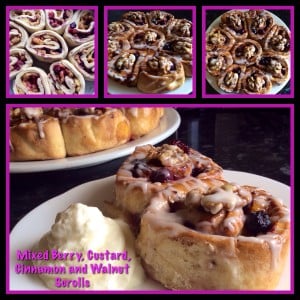 Mixed Berry, Custard, Cinnamon and Walnut Scrolls
Ingredients
DOUGH (3 Versions) I used the Milk version for this recipe
MILK VERSION
2 cups Self Raising Flour

1/2 teaspoon Salt

75g Butter

1/2 -1 cup Milk
CREAM VERSION
2 cups Self Raising Flour

2 teaspoons Sugar

1 1/4 cups Cream
YOGHURT VERSION
2 cups Self Raising Flour

1 cup Greek Yoghurt
FILLINGS
Melted butter

Cinnamon

Brown Sugar

Custard (thick) I made this up from the Custard Powder according to the instructions on the box/packet but I added a little extra cornflour to help it thicken up quicker and I cooked it in the microwave.

Frozen Mixed Berries (approx 1 cup)

Walnuts (crushed) keep some whole to put on top of each scroll when cooked
GELATIN GLAZE
3 tablespoons Water

1 1/2 tablespoons Sugar

3 teaspoons Gelatine
VANILLA GLAZE
1/2 cup Icing Mixture/Sugar Sifted

1/2 teaspoon Vanilla

2 tablespoons Milk
Instructions
DOUGH
Mix together until dough just comes together

Knead on a slightly floured surface until smooth

Roll out the dough out into a 20cm x 30cm rectangle

Brush all over the dough with your melted butter

Sprinkle with cinnamon, brown sugar, custard, mixed berries and chopped walnuts

Roll up and cut into 2cm slices and place either directly onto some baking paper close together in your slow cooker or on some baking paper in a cake tin/ silicone mould

Cook on HIGH for 1.5 hours with a TEA TOWEL under the lid to catch any excess condensation

NOTE:- Different brands of Slow Cookers may vary in cooking times

Once cooked and on your plate still hot, place half a walnut on top of each scroll

Make up the Gelatin glaze by placing these ingredients into a small saucepan and stir over a low heat until all of the gelatin has dissolved

Brush all over the scrolls

Make up the Vanilla Glaze with the ingredients and mix until it's a thick consistency enough so it drizzles of the spoon back and forth across the scrolls

FINALLY ENJOY WITH A NICE CUP OF TEA OR COFFEE !!!