Submitted by Cherylee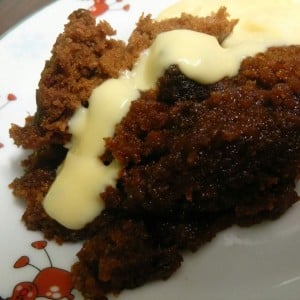 Malva Pudding
Ingredients
Pudding Ingredients:
1 heaped tablespoon butter/margarine

3 heaped tablespoon apricot jam

1 teaspoon bicarbonate of soda

1 egg

1 cup plain flour

½ cup brown sugar

½ cup milk
Sauce Ingredients:
1 cup cream or evaporated milk

100g butter/margarine

½ cup brown sugar

60ml hot water
Instructions
Pudding Preparation and cooking-2 hours on high.
Cream together butter and sugar.

Add egg and jam, beat together.

Add dry ingredients and milk alternately, stir the mixture until smooth. This is a very loose mixture, batter.

Add the mixture into a slow-cooker set to high.

Place a tea-towel around the slow-cooker lid before placing it ontop of the slow-cooker.

Leave for 2 hours, but check back after 1 ½ hours as cooking temps vary in slow-cookers. When done it will be springy to the touch.
Sauce preparation
Throw the ingredients into a pot and bring to a high heat on the hob/stove until sugar is dissolved.

Allow it to have a rolling boil for a few minutes, swish the liquid about in the pot so that it doesn't burn.

Turn off the heat and leave until the pudding is cooked.
Completing Pudding
Once the pudding is cooked, pierce it multiple times with a fork creating holes all over the surface of the pudding.

Take the still warm/hot sauce and pour it over the pudding, there will be some slight hissing due to the hot liquid meeting the slow-cooker.

Take a spoon and spoon some of the sauce over the top of the pudding as it may dome as it cooked. Once you are satisfied with the coverage, pull the edges away from the slow-cooker using the back of the spoon allowing the sauce to soak up the sides and underneath the pudding.
Notes
Traditional South African Pudding served with custard, cream or ice-cream. Can eat hot or cold. Recipe amended by me to suit slow-cooker.