Submitted by Rozi Pottsy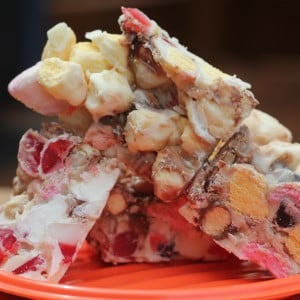 White Chocolate Rocky Road with a Caramel Swirl
Ingredients
550g white chocolate melts

150g Marshmallows

190g raspberry lollies

100g maltesers

60g chicos (lollies)

60g bananas (lollies)

60g milk bottles (lollies)

60g strawberry cream (lollies)

2 tablespoons of Hersheys Caramel Syrup (optional)
Instructions
Put chocolate melts into the slow cooker and put the lid on and turn on high. With a tea towel under lid.

Stir the chocolate every 10 minutes with a metal spoon.

My 1.5 Woolies sc'er took 30 minutes to melt my chocolate.

While chocolate is melting, I cut up all my lollies and placed in a big bowl.

Line a cooking tray with baking paper (I used a 29 cm x 18 cm x 4cm deep)

Put all your mixed lollies into the tray and ensure they are all mixed through.

Once Chocolate is melted, pour the chocolate directly into your lolly tray and then using your spoon, mix the chocolate through the lollies.

Once mixed through, I drip the Caramel syrup over the top of the rocky road (This is entirely optional)

Depending on the temperature of where you live, I then placed mine in the fridge to set for a couple of hours.
Notes
You can use whatever lollies you like for this. Peanuts, Mars Bars, Musk Sticks, Red Frogs, Snakes, Tim Tams

You can also use more or less chocolate - it's a very versatile recipe, I simply used what I had left in my cupboard

I do suggest having a few lollies with a bit of 'crunch' - it seems to add that little extra to it

You can use whatever size tray you like, however the larger the tray, the skinnier your rocky road will be. I used a shorter tray so I could have nice thick slices

This can be quite sweet, so this is perfect to take to a party where everyone can have 1 or 2 pieces 🙂