Submitted by Jessica Sullivan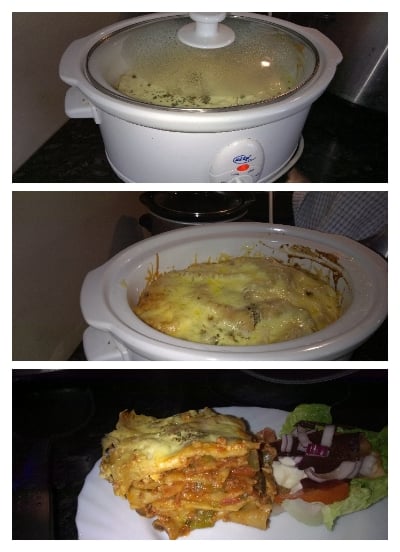 Lite n Healthy Lasagna
Ingredients
Ingredients for meat sauce

1 tablespoon olive oil

1 small brown onion, diced

1/4 red capsicum, diced

1/4 green capsicum, diced

2 garlic cloves, crushed

4 slices bacon, chopped

500g Turkey Mince

2 tablespoons Beef Stock Powder

4 mushrooms, chopped

1/4 cup red wine

1/2 cup water

1 tin of crushed tomatoes

4 tablespoons tomato paste

Italian mixed herbs

1 zucchini

250g San Remo Dried Wholemeal Lasagna Sheets

1/2 cup of grated cheese, I use Tasty because the kids like it

Ingredients for Cheese Topping

1/2 cup Philadelphia Lite Cooking Cream

1/2 cup Light Milk

1/2 cup grated cheese

2 teaspoons cornflour

1 egg
Instructions
1. Brown up the onion, capsicum and bacon in the oil. As soon as they are ready remove from the pan

2. Brown mince in pan combined with beef stock. Add in garlic, tomato paste, mushrooms, and zucchini.

3. When the mix is all hot and sizzling add in the tinned tomatoes and bring the mix back to a simmer.

Inside the empty tin combine the red wine and water and put this liquid over the mix. Add back the onion mix that was set aside and combine.

4. Let the meat sauce simmer well to reduce the liquid by half. Take it off the heat when ready.

5. Build the Lasagne

I use my 3.5 litre slow cooker, spreading the inner with oil. Start layering with the pasta sheets, using 2 sheets per layer. I break them up to fill up the oval shape of the cooker.

The next layer is about 1/4 of meat sauce mix, spread evenly. Then third later is a little grated cheese and then repeat the layers ending with pasta sheets on top.

6. Combine all the Cheese Sauce Ingredients using an egg whisk to mix well. Put it over the top pasta sheets, making sure to cover them evenly. Sprinkle more herbs on top.

Lid on and cook on high for 3 hours. You'll know its ready when its easy to penetrate all the layers with a dinner knife.