Submitted by Josephine Dawe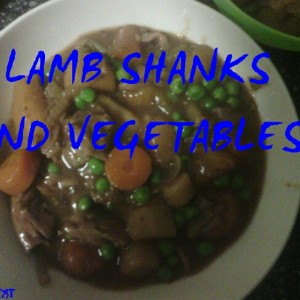 Lamb Shanks and Vegetables.
Ingredients
1 onion

1 swede

1 large parsnip

2 large potatoes

2 large carrots

2 stalks of celery

1 cup frozen peas

2 cups vegetable stock

2 lamb shanks

2 tbs Worcestershire sauce

2 tsp garlic

Dried rosemary and season all

Gravox powder to thicken.
Instructions
Dice up all veges and place into sc, except peas.

Place lamb on top. Pour over stock. Add rosemary and season all and garlic.

Cook on low for 6 or so hours or until meat is falling off the bone. Remove the bones.

Add peas and amount of gravy to thicken. Continue to cook until peas are cooked and gravy has thickened.

Serve with mash potato or crusty bread rolls.