Submitted by Tracy Kyle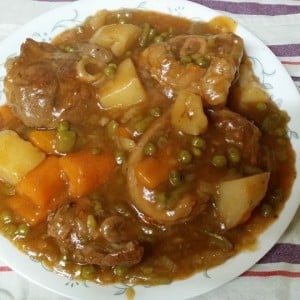 Lamb Chop Dish
Ingredients
2 Medium Brown Onions

1 Kg Lamb Chops

3 Medium Potatoes

3 Large Carrots

Frozen Vegetables

1 box of 4 packets of Tomato Cup-O-Soup

I family Sized Pack of Continental Spring Vegetable Soup

Corn Flour
Instructions
This is a family favourite that we have often. We simply know this dish as Lamb Chop Dish, (very creative I know). Not sure where it came from but we have been enjoying it for 20 to 30 years.

1. Brown 2 brown onions, cut into slices. Put aside.

2. Brown 1 kg of lamb forequarter chops. I use the small ones with the round bone in them. Set them aside.

3. Peel 3 medium potatoes and 3 large carrots and cut them into bite sized chunks.

4. Layer half the onions, half the chops, half the potatoes and carrots and add any frozen veg you like, (corn, beans, peas, brussels sprouts.

5. Repeat with the rest of the ingredients.

6. Mix together 4 packets of tomato flavoured Cup-o-Soup, 1 family sized packet of Continental Spring Vegetable Soup and 1 litre of water and pour into slow cooker.

7. Cook on high 3 hours and low for 4 hours, If not thick enough, thicken with a little corn flour.

Great meal on a cold or wet night. Hope you enjoy it.

P.s. I use the small lamb chops as we like to suck the marrow out of the bones.