Submitted by Paulene Christie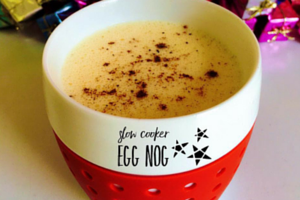 Eggnog (Alcohol Free)
Ingredients
2 and 1/3 cups of full cream milk

1/3 cup sugar

4 egg yolks

1 tsp vanilla

1 cup thickened/whipping cream

Ground nutmeg to garnish
Instructions
Separate egg yolks from egg whites. If you don't have an egg separator just crack each egg over a bowl and juggle the egg from one half of the shell to other, back and forth a few times and the egg white will drain into bowl, leaving you just the yolk in the shell. Do this until you have just your 4 yolks required for the recipe. Add yolks only to a mixing bowl or jug. Whites are not required for this recipe but you could reserve them in the fridge to use in an egg white omelette etc so they don't go to waste.

Add milk and sugar to egg yolks and whisk well to combine.

Pour into slow cooker - Cook on HIGH for approximately 1.5 - 2hrs (see notes below on how to know when it's ready)

I cooked mine with the lid slightly ajar and stirred periodically during cooking (every 10mins or so) just to keep an eye on it's consistency and to ensure that it did not reach a simmer/boil as that would cause eggs to scramble.

When mixture is almost cooked place a large mixing bowl in your sink and surround it with cold water and a few ice cubes.

Pour eggnog from your slow cooker bowl into this other bowl in the cold water bath and stir well. This will help your finished eggnog reduce temperature faster after cooking.

Add cream and vanilla and whisk well.

Store in fridge for approx 2-4hrs to chill then serve in mugs or from a punch bowl with a sprinkle of nutmeg on top of each mug.
Notes
A common tip for knowing when your eggnog is cooked is that it will coat the back of a metal dessert spoon and you could run your finger through this coating and leave a finger track. You won't get this if it's still very thin.

I used a 5L slow cooker but it would work just as well in smaller slow cooker like a 1.5L. Mixture will cook faster in a large slow cooker with bigger surface area so watch for curdling/scrambling if finished sooner. Should be at least 1hr though before you need to worry too much.

If your egg starts to scramble all is not lost! You can run your eggnog through a fine sieve to remove solids.
Garnish Options
A dollop of whipped cream can be added to each mug. Other than the traditional nutmeg it can also be garnished with cinnamon, chocolate flakes or candy canes.
Alcoholic Version
Many enjoy an adults version of eggnog. 1/4 cup of milk can be replaced with spirits such as rum, brandy or bourbon.
Low Fat Version
Traditional eggnog does have a high fat/sugar content. You could replace the full cream milk with skim milk and the cream with evaporated skim milk to lower the fat content (though I've yet to test this myself, several sources quote it as an option)
Food Safety Notes
Traditional eggnog wasn't always cooked but this has a risk of salmonella poisoning if raw eggs infected with salmonella were consumed. Using commercial pasteurized eggs or heating the mixture gently, without boiling, until it thickens enough to "coat the back of a spoon" addresses this raw egg risk.

Always store your eggnog in the fridge between serving and consume within 2 days of cooking.
All about eggnog
If you'd like to read more about the history of eggnog you can do so here: https://en.wikipedia.org/wiki/Eggnog