Submitted by Nikki Willis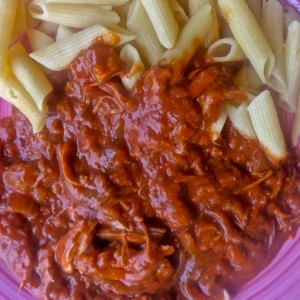 Hungarian Chicken
Ingredients
2Tbsp Oil

1- 1.5kg boneless, skinless chicken thighs - chopped in half

2 medium onions, sliced

4 cloves garlic, diced

1/2 cup plain flour

4 Tbsp paprika

4 large tomatoes - diced (approx 2cups)

2Tbsp tomato paste

1 cup chicken stock

1Tbsp brown sugar

1/2cup sour cream

2Tbsp cornflour

Salt and black pepper
Instructions
Mix the flour and 2Tbsp paprika together.

Put 1Tbsp oil into a pan on medium heat.

Coat the chicken in the flour mix and brown both sides of the chicken. (Paprika will burn if heat is too high.) Place chicken into slow cooker.

Add another 1Tbsp oil to the pan.

Coat sliced onion in any remaining flour and gently saute the onion and garlic until it is starting to cook. Place into slow cooker.

Add the remaining ingredients to the slow cooker and mix all together.

Cook on low for 5-6hrs.

Approx 10 minutes before serving, mix 2 Tbsp cornflour with 1/2 cup sour cream. Add 3-4 Tbsp of the cooking liquid to this and mix and then place it all into the slow cooker, stir through and turn the cooker off. (adding a little of the hot liquid to the cold dairy prior to adding into the dish will help stop it splitting when added into the hot liquid)

Add salt and pepper to individual taste.
Notes
This is traditionally made with Hungarian paprika which is a sweet paprika so in the absence of having that in my cupboard, I have used brown sugar to add a little sweetness.

Made in 3.5l slow cooker.