Submitted by Brittany Walters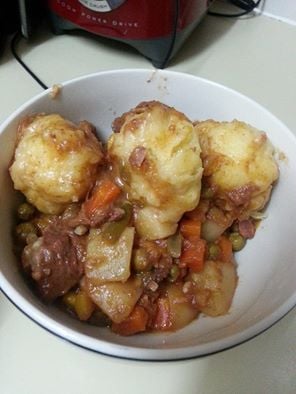 Hearty Beef Stew with Butter Dumplings
Ingredients
Beef Stew:
600gms Diced Beef

3 potatoes

2 carrots

3 rashers of bacon

onion

frozen peas, corn and beans ~ a shake of each

2 wedges of pumpkin

2 celery stalks

generous teaspoon of crushed garlic

sachet of tomato paste ~2Tbs

500ml liquid... I use 1 cup of red wine and 1 cup of beef stock
Butter Dumplings:
90gm Plain flour

90gm SR Flour

90gm Margarine (I have used Butter too)

1 teaspoon salt

1/4 cup of milk
Instructions
Beef Stew:
I literally cube the veges and dice the bacon and onion (except the pumpkin; I dice that small so it boils down to make the sauce)

Throw it all in together and cook on LOW for 6 hours

Add the dumplings

Cook for a further 30/40 minutes.... and voila!

I did stir it twice while it was cooking, this is also enough liquid to cook the dumplings in too.
Dumplings:
Rub the butter/margarine into the combined flours and salt

When it resembles bread crumbs add the milk.

Roll out into the bench and kneed for a few minutes.

Roll into tablespoon sized balls

NB: make sure there is plenty of liquid, there should be following the stew recipe but if not add a cup of hot stock.