Submitted by Frankie Raines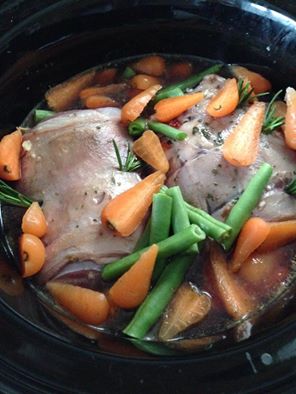 Fruity Lamb
Ingredients
Boneless joint of Lamb (about 1kg)

Garlic cloves

Rosemary Sprigs

300ml Lamb stock

Half a glass of fruity red wine

1tbls Redcurrant Jelly

1tsp Mint sauce

1tsp mixed herbs

Baby carrot (optional)

Green beans (optional)

Cornflour
Instructions
Brown off lamb joint in a pan.

Pierce the joint in several places.

Crush garlic and rub over joint.

Stuff rosemary sprigs in pierce holes.

Place joint in slow cooker.

In a jug...

With boiling water, make up the lamb stock and mix in the redcurrant jelly, mint sauce, mixed herbs and red wine

Add baby carrots and green beans if using.

Pour liquid over lamb and put on LOW for 6-8hours

Remove lamb and veg (if used) and set aside on a plate, cover with foil to keep warm.

Pour liquid into a pan, place over a high heat and thicken with cornflour, stirring constantly.

Serve with mashed potato.