Crock-Pot are back to solve your mid-week meal dilemma with this awesome 4.7L Lift & Serve slow cooker!
By prepping food in the morning, setting the cooking temperature before you start your day, then coming home to a delicious meal cooked at dinner time, feeding your family has never been so easy!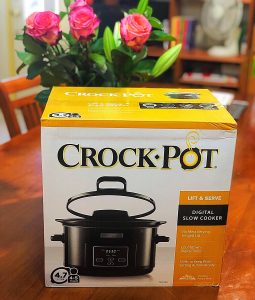 What I love about this particular slow cooker is the size!
With so many different slow cookers on the market it can sometimes be confusing as to which one is right for you?
The average slow cooker is around the 6L mark, but for many families, this is too large for their needs.
While there are several quite smaller cookers on the market also, you can sometimes be limited by the small ones as to what will actually fit in them to cook.
Enter this 4.7L !
Just like Goldilocks would say – it's not too big, not too small, it's jussssssssst right! 🙂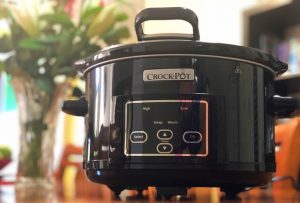 Lets have a closer look at the features of this great machine!
Features:

– Glass lid
– Removable 4.7L, stoneware crock cooking bowl to serve 4-5 people
– Hinged lid (removable)
– Crock cooking bowl is oven safe
– Crock and hinged lid are dishwasher safe for easy clean up
– Heating base with wrap around element
– Programmable digital control panel with countdown timer
– Temperature select options : Low, High and Keep Warm
– Shifts to keep warm automatically after cooking time
– Cool touch carry handles for safety
– Recipe booklet included
– 12 month replacement guarantee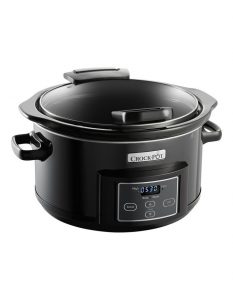 It's always a great advantage to have the option to use your cooking bowl in an oven also.  Great for browning dishes, or melting cheese etc at the end of slow cooking.
And who doesn't love the option of being able to pop the bowl and lid into the dishwasher at the end of the night so you spend less time in the kitchen!
With the digital control panel you can stay in control and dinner is ready when you are 🙂
It has a 20 hour cooking countdown timer plus up to 4hrs keep warm option.
It's great to see at a glance on the illuminated digital display exactly where your cooking is up to and when it will be ready 🙂
But lets talk about that unique hinged lid!
The lid lifts back and stays in place allowing easy serving straight from the pot – great for parties and entertaining too.
Any food and condensation will no longer spill onto your bench top but will instead fall straight back into the bowl!
The lid easily detaches by lifting it out of its hinged slot (which you need to do before removing the cooking bowl from its base)
It makes one handed serving safer and easier!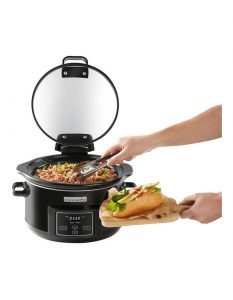 And the Crock-Pot Lift & Serve comes complete with a recipe booklet with 4 weeks of recipe ideas to get you started! 🙂
RRP: $79.99 in Australia and is available in all leading retailers nationally including Harvey Norman, Bing Lee, The Good Guys, JB Hi-Fi, Myer, and Bi-Rit
RRP: $169.99 in New Zealand and is available in Briscoes and Smith City
Happy Slow Cooking!