Like Slow Cooker Central, Crock-Pot also know that slow cooking is the easy, one pot solution for all meals, all seasons, and all tastes 🙂
But with this new Choose-A-Crock One Pot Slow Cooker they have CHANGED. THE. GAME.
I can't tell you how often I see folks wanting to do more than one recipe on a given day in their slow cookers.
It may be due to different tastes in the household, due to allergies, adult vs child spice levels, or just plain convenience!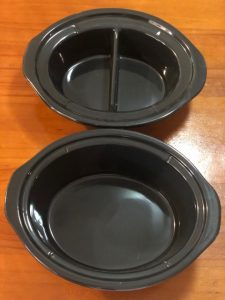 This slow cooker from Crock-Pot is the solution.
One slow cooker – TWO bowl options.
One bowl a 5.6L … or take it out and replace it with the other bowl – a 2.4L divided bowl.
So much to love about this so lets gets started on breaking down all the details for you 🙂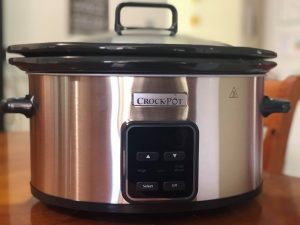 Features:
Beautiful stainless steel appearance
1 x 5.6L glazed ceramic cooking bowl
1 x (2 x 1.2L) divided glazed ceramic cooking bowl
The glaze on the ceramic pot is lead free
Bowls nestle inside each other in the cooking unit for compact storage when not in use
Universal glass lid fits both bowls so you can easily watch what's cooking
Digital control panel – HIGH, LOW and KEEP WARM with illuminated indicators so you know what's set
Up to 20hr cooking time countdown on the digital timer, which then automatically switches to keep warm for up to 4hrs also after your cooking time is completed
The cooking bowls and lid are dishwasher safe so easy to clean
The stoneware cooking bowls themselves are also oven safe and microwave safe making it easy to add the finishing touch to dishes under the grill to browning or melting ingredients, or for reheating.
Recipe book included
12 month replacement warranty
Dimensions 38.6L x 39H x 28W cm
Weight 9.5kg
Australian Stockists include Harvey Norman, Myer, Betta Home Living, David Jones, Bing Lee
NZ Stockists include Smiths City, JBs, Heathcotes and some Appliance Connexion stores
RRP $129 for the Choose-A-Crock CHP600 model