Submitted by Danie Scuteri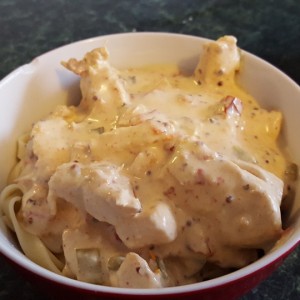 Creamy Sundried Tomatoes and Seeded Mustard Chicken
Ingredients
2x Chicken Breast (Thighs can also be used)

250g Cream cheese

2 heaped tablespoons of Seeded Mustard

100 g (or as much as you prefer) of chopped Sun-dried Tomatoes

1x Teaspoon of crushed garlic (optional)

4x sprigs of spring onion

1/2 a cup of water

Serve with pasta or rice
Instructions
Chop the chicken (raw) and spring onions and place into slow cooker.

Add cream cheese by chopping up the block (or roll) and spreading evenly into the slow cooker.

Then proceed by adding the seeded mustard, sun-dried tomatoes, water and garlic.

Set slow cooker on low and cook for approximately 2.5 hours .

Stir every half hour once cream cheese has melted.

Serve with pasta or rice.