Submitted by Kendall Bermingham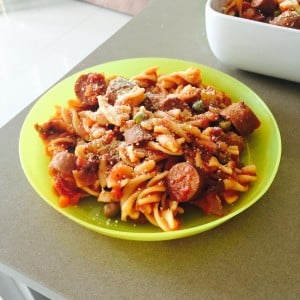 Snoz Pasta - kid friendly
Ingredients
3 large sticks of celery cut up

2 medium carrots diced

1 medium brown onion

1 1/2 table spoons garlic

1 table spoon tomato paste

1 jar pasta sauce

2 tins diced tomatoes

8 sausages (par boiled - best for cutting up and removing skins)

6 mushrooms

1 cup frozen peas

Salt and pepper
Instructions
Put pasta sauce, tinned tomatoes, garlic and tomato paste into slow cooker and stir until combined

Add in celery, carrots and onions and stir

Cut up par boil and skinned sausages into 2cm chunks (I do the sausages and bed the night before and put in containers to throw in the next day) and stir into sauce

Add salt and pepper to taste

Put on low for 6/7 hours.

I add in my mushrooms and peas an hour before serving.

Use any pasta - I cook separate as I don't think it cooks as good in slow cooker.

And you will be the best mummy in the world with this one.