Submitted by Karen Stuckings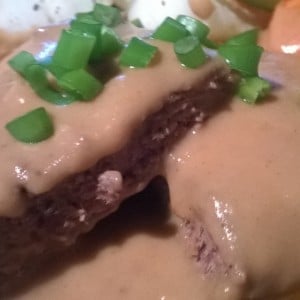 Creamy Steak Diane
Ingredients
½ cup water

1 teaspoon beef stock powder

1 teaspoon Dijon mustard

1 crushed clove garlic (1 teaspoon jar)

1 teaspoon onion powder (1/2 finally chopped onion can be used instead)

3 Tablespoons Worcestershire sauce

3 Tablespoons tomato sauce

300 ml cooking cream

6 steaks (I used 800 grams rump steak cut into smaller steaks with fat removed)

Shallots to garnish (optional)
Instructions
Place everything in slow cooker except for steaks.

Mix well.

Add steaks. Browning the steaks first is personal preference, I didn't.

Cook on low for 2.5 hours or until steaks are tender.

Once steaks are cooked remove to thicken sauce to the consistency required (see notes below)
Notes
I used 5.5 L cookwell slow cooker.

Serve with vegetables or chips and salad.

There would be enough sauce for a couple of extra steaks if you wish.

How I thickened sauce: In small saucepan over medium heat melt 2 tablespoons butter (25grams). Add 2 tablespoons plain flour, mix well and cook for 1 minute. Slowly add 1 cup of sauce whisking the whole time. Add thickened part of sauce back to sc and whisk together with rest of sauce. Or you can use your own method of thickening.