Submitted by Tiffany Southam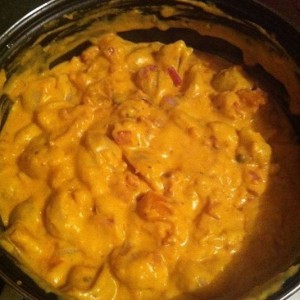 Creamy Pumpkin & Bacon Pasta
Ingredients
- 2 cups Shell pasta (large shells)

- 1/2 cup pumpkin puree

- 120g cream cheese

- 1/4 cup evaporated milk

- 1/2 tsp minced garlic

- 1/2 tsp salt

- 1/4 cup diced bacon

- Parmesan Cheese
Instructions
- Dice pumpkin, cook until soft, drain and puree. ( Keep a handful of diced pumpkin once its cooked before you puree it).

- Cook pasta according to packet instructions until soft, strain.

- Add both pumpkin and pasta to the slow cooker.

- Pan fry the diced bacon with the garlic until brown.

- Place bacon in slow cooker and add the evaporated milk.

-Cook for 1-2 hours on low stirring occasionally

- Add the cream cheese and stir occasionally until melted through and sauce is thick.

- Before serving throw in the handful of cooked diced pumpkin you saved and stir gently, sprinkle with some Parmesan cheese and enjoy.

NOTE: If sauce is too thick add a little water.