Submitted by Paulene Christie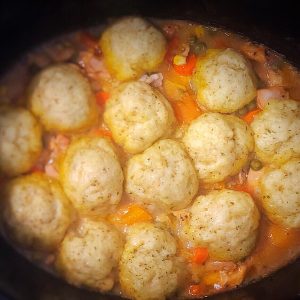 Creamy Chicken Casserole with Cheese & Herb Dumplings
Ingredients
Casserole
1 large carrot, sliced relatively thin

2 Tbsp dried peas (or half a cup of frozen peas)

1.5 cups of butternut pumpkin, cut in small cubes

Corn kernels cut from 1 large fresh corn cob

1kg skinless chicken thigh fillet, diced

1 x 420g can of condensed cream of chicken soup (no water added)

1 x cup of soup sachet of spring vegetable soup (dry)

1 tsp wholegrain mustard

1 tsp Worcestershire sauce

1 tsp minced garlic

½ tsp cracked black pepper

1 cup liquid chicken stock
Dumplings
1 cup SR flour

½ tsp mustard powder

½ tsp dried oregano

½ tsp dried parsley

60g butter

½ cup grated parmesan cheese

½ cup milk
Instructions
Combine all casserole ingredients in slow cooker and cook on low for 4hrs

To make dumplings, combine the flour, mustard, and herbs in a large bowl. Add the butter and use your fingertips to rub in until crumbly. Stir in the parmesan, then make a well in centre. Add milk and use a knife to combine until mixture starts to clump together.

Gently gather dough together and make golf ball sized dumpling balls (I made 14 ) . Gently drop them on top of casserole, spaced apart, as they will expand.

Cover with tea towel trick and continue to cook on low for another 45-60mins or until dumplings are cooked.

Serve with steamed green veg on the side

This recipe also features on page 148 of our book SLOW COOKER CENTRAL - READY SET SLOW! Available on the shop page of this website.