Submitted by Paulene Christie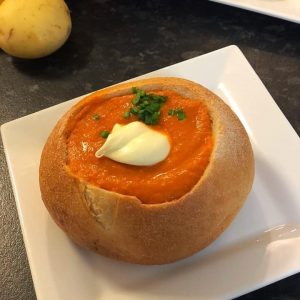 Creamy Tomato and Bacon soup in Sourdough Bread Bowls with Mascarpone Cheese
Ingredients
Soup Ingredients
2 x 800g cans diced tomatoes

2 small onions, diced

2 celery sticks, sliced

1 large carrot, fine diced

1T minced garlic

1 cup liquid vegetable stock

300g diced bacon

½ tsp salt

½ tsp cracked black pepper

Handful fresh basil leaves, sliced

1 tsp dried thyme

2 tsp smoked paprika

2Tbsp Worcestershire sauce

150ml cooking cream
To serve
1 large sourdough roll per person to serve

1 dollop mascarpone cheese per person to serve (this is amazing don't skip this!)

Fresh chives, chopped, to garnish
Instructions
Combine all soup ingredients except cream into slow cooker. I used a 6L slow cooker

Cook on low for 6hrs

Using a stick blender/immersion blender, blend soup to smooth consistency

Stir through cream

Prepare each bread bowl by slicing off a lid and tearing out centre bread – leaving a thick wall of bread remaining inside the crust. Tear up removed bread (and lid if you like or leave that whole) into chunks.

Place each bread bowl inside a wide soup bowl and arrange bread chunks for dipping around each

Fill each bread bowl with soup. Garnish with a dollop of mascarpone cheese and chives

Serve immediately
Notes
I love the pairing of bacon with a creamy tomato soup and this one doesn't disappoint. With the addition of fresh basil and some vegetables too this is both delicious and nutritious.

Great for your next dinner party or just an everyday treat for the family to enjoy ?

This recipe also features on page 52 of our book SLOW COOKER CENTRAL - READY SET SLOW! Available on the shop page of this website.