Submitted by Sharon King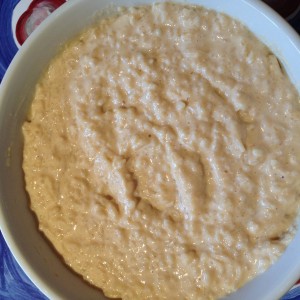 Creamed Rice
Ingredients
2 cups long rain rice

10 cups full cream milk

1 tin condensed milk

3 tpns brown sugar

Cinnamon - generous sprinkle

Nutmeg - a few pinches

200 ml thickened cream

- extra milk to get to your desired consistency
Instructions
Combine ingredients (except cream) and cook on high for 2 hours. (see feedback under recipe for time variations)

10 minutes before serving add the cream and combine.

Cook on low for further 10 mins.

Add additional milk if desired.
Notes
When I made this I initially only put in 2 cups rice, 8 cups milk, 1 tin condensed milk, 1 tbsp brown sugar.

As the rice got close to being ready I wanted a much creamier texture and sweetness so I added the 2 extra cups of milk, 200ml cream and 2 tbsp of brown sugar.

I then stirred to remix leaving on low for a short while longer.

Today I made this creamy rice.... This is definitely not for those watching their weight.....AT ALL (or sugar intake for that matter).

What resulted though was a beautifully sweet and creamy dessert.