Submitted by Keryn Wolff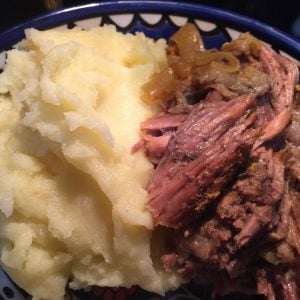 Chuck n Mustard
This mustard beef recipe is very loosely based on a popular method for brisket used by bbq smoke grillers in the USA. It is very easy and extremely tasty.
Ingredients
1 kg chuck beef cut into large cubes ~ 2 -3 inch size

1 onion sliced

French's brand yellow mustard. It is sugar free which I believe allows it to cook better all day by this slow cooked method

* optional but is nice: 2-3 large potato peeled and cut into large chunks.
Instructions
Add ingredients to a slow cooker which is at least 3L in size

Squirt mustard over ingredients as you go.

You will use at least half of a small (226g) bottle of French's Mustard

Set cooker to Auto (or high for the first 1-2 hours to get hot quicker, then switch to low).

If you don't plan on attending your slow cooker just set to low.

Cook for 7 hours or until meat begins to fall apart when tested with a fork.
Notes
This simple recipe can be consumed as is or served with rice or pasta.

You can thicken the liquid to make a gravy or just toss in some macaroni half hour prior to serving.

You want more veggies? Easy, just add more or serve with them.

To keep this recipe low carb, please use large chunks of parsnip, turnip, kohlrabi or cauliflower.