Submitted by Stacey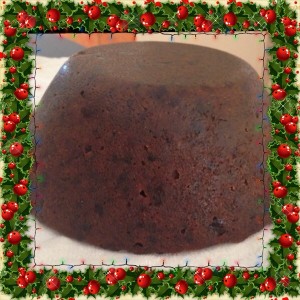 Christmas Pudding
Ingredients
1 1/4 cup currants

1 cup raisins

1 cup prunes

3/4 cup sherry

2/3 cup plain flour

2 1/3 cups breadcrumbs

14 tablespoons grated vegetable shortening ( or 1 block of Copha if in aus)

3/4 cup dark brown sugar

1 tsp ground cinnamon

1/4 tsp ground cloves

1 tsp baking powder

Grated zest of 1 lemon

3 large eggs

1 medium apple, peeled and grated

2 tablespoons honey
Instructions
I processed the dry fruits to chop lightly (but that is personal preference), then add to a bowl with the sherry.

Leave for approx. 1 week covered in cling wrap (on the bench or in the fridge).

After leaving for a week to sit then add the rest of your ingredients to a large bowl and mix well.

Sit the fruit mix in the bowl on a saucepan on the stove top to warm. Add the fruit mix to the other ingredients and mix well.

Pour into your pudding bowl, I used a silicone one lightly sprayed with spray and cook and put pudding bowl lid on. Put 2/3 cup of water in slow cooker and put lid on slow cooker with no tea towel needed.

Cook for 5 hours on low take out and wrap gently in a tea towel.

Place back into pudding bowl when preparing to serve for the last 3 hours of cooking repeating same cooking process.