Submitted by Robyn Clark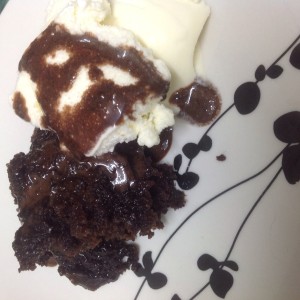 Chocolate / Cherry Marshmallow Pudding.
Ingredients
1 box chocolate cake

1 egg

2/3 cup water

1/2 tin of pitted cherries and half the tin of juice ( freeze the other half for next time )

1 packet large marshmallows
Instructions
Mix up the chocolate cake adding in the egg and water and chopped cherries and juice. Mix throughly.

Choose a pudding dish suitable to fit your SC .

Line the bottom with the marshmallows, and pour in the batter .

Cook on high for approx 2 hours with tea towel under the lid.

This is a very sticky pudding because of the marshmallows .

Allow to cool and then serve with IceCream and ice magic or chocolate topping.