Submitted by Robyn Clark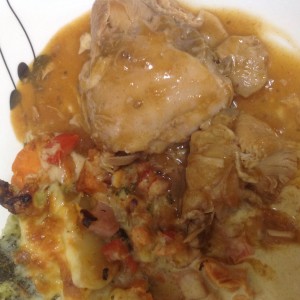 Mozambique Chicken
Ingredients
1 kg Chicken pieces or thigh fillet.

1 1/2 teaspoons oregano

Juice of a lemon

2 teaspoons minced garlic( 2 cloves)

1/3 cup tomato paste ( or 1 sachet)

2 teaspoons paprika

1 cup fruit chutney

Pinch salt

1 teaspoon chilli powder( optional) or Nandos peri peri sauce.
Instructions
Brown off the spices.

Transfer to your SC and add in the chicken pieces.

Cook on low 5 hours.

Add a small amount of cornflour to thicken the juices.

Serve with vegetables or rice.