Submitted by Katy Kat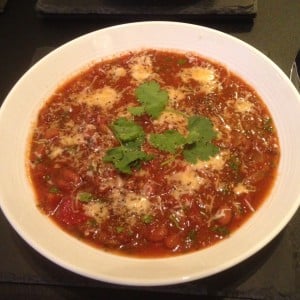 Chilli con carne Soup
Ingredients
1 onion finely chopped

4 garlic cloves crushed

1 tbsp vegetable oil

500g steak mince

400g tin pinto beans, drained and rinsed

2 x 400g tin chopped tomatoes

700ml water and 2 chicken stock pots

1 tsp crushed dried chillies

2 tsp cumin

2 tsp ground coriander

1 tsp spicy chipotle chilli paste

150ml red wine

3 tbsp tomato puree

2 tsp oregano

200g jar red jalapenos drained

Fresh coriander and grated Gruyere cheese to serve

**optional – 2 squares of dark chocolate (I do not add this as I personally DO NOT like the flavour but many others do)
Instructions
Brown the mince, onion and garlic in the veg oil for five minutes then add to the SC.

Add all the other ingredients, except the jalapenos, fresh coriander and cheese (if using the chocolate add it now also). I also seasoned with salt and course ground black pepper.

I cooked this on high for one hour then low for 9 hours (you could do less but I just left it on low until hubby was home).

Add the jalapenos about an hour before serving.

Serve topped with the fresh coriander, grated Gruyere cheese and black pepper with fresh bread for dipping.