Submitted by Robyn Clark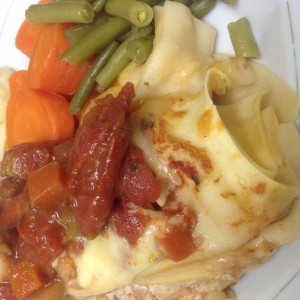 Chicken Minestrone Cannelloni
Ingredients
Made in a Sunbeam Secret Chef.

500-700 g chicken thigh fillet cut into small cubes

1/2 tub ( about 1 cup ) ricotta

1/2 - 1 tablespoon minced garlic

1-2 teaspoons chilli ( optional )

1/2 - 1 cup grated cheese.

4 -6 sheets fresh lasagne cut in half , makes 8 - 12 cannelloni's

1 large can minestrone soup

1 can tinned tomatoes

Grated cheese
Instructions
Mix the chicken , garlic , chilli, grated cheese and ricotta together . At this point you can add baby spinach or any other extras you like.

Cut the lasagne sheets in half and place some chicken mixture at the end and then roll up . Continue until you have as many cannelloni's as you need. Lay the cannelloni's in with seam facing down in your SC .You can layer on top of each other , seam down too.

Mix the minestrone soup with the tin tomatoes and add any spices you like . Pour over the cannelloni's and top with grated cheese. Save some cheese to add more towards the end of cooking time. Tea towel under the lid and cook on high 2 hours . Top with extra cheese and brown under the grill.