Submitted by Denise Roberts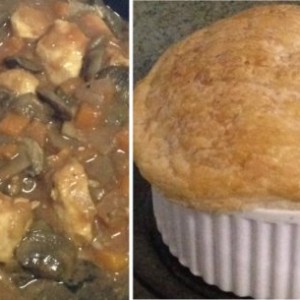 Chicken Cacciatore Pies
Ingredients
1/2 Onion, finely chopped

1 Cloves Garlic, crushed

1 Carrot, finely chopped

2 Tablespoons Tomato Paste

1 Cup Salt Reduced Chicken Stock Liquid (250g)

250g Lean Chicken Breast, cut into 2cm pieces

200g Mushrooms, sliced

1 Tablespoon Cornflour

1/2 Sheets Frozen Puff Pastry (Vegetable Oil), thawed slightly
Instructions
Add chicken, onion, carrot and mushrooms to slow cooker.

Combine tomato paste, stock, cornflour and garlic and then pour over chicken.

Stir.

Cook for 3 hrs on low.

Set aside to cool, then divide between two 1 cup (250ml) capacity ovenproof dishes.

Preheat oven to 200C.

Cut pastry into 2 squares. Place pastry over top of each dish and press around edges to seal. Cut a slit in center.

Place dishes on a baking tray and bake for 20 minutes or until golden.

Serve.

Note: Cooked in 5.5L Contempo SC which cooks at a higher heat. Times may vary.