Submitted by John Walter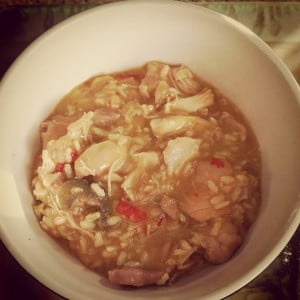 Chicken and Pumpkin Rice
Ingredients
2kg Chicken pieces (I used thigh but any should be ok)

1pkt French Onion soup

1 tablespoon flour

1 Large brown onion chopped

10 Mushrooms(I expect these to cook down though)

1 Capsicum

1 can Cream of Pumpkin soup

1/2 can of Water

1 cup of Brown Rice
Instructions
Cut chicken into whatever size pieces you want, put into a bag and coat with flour and french onion soup packet then put it into the slow cooker.

Slice capsicum, mushrooms and chop up the onion and put it in the slow cooker with the chicken.

Mix soup with 1/2 can of water pour into slow cooker.

After 6 hours on low mix through 1 cup of rice and leave on low for the last hour.

If you want to thicken the sauce a little you can leave the lid off the slow cooker for the last 30-45 minutes of cooking.