Chicken and vegetable combination in flavour packed sauce
Submitted by Lynn Oconnor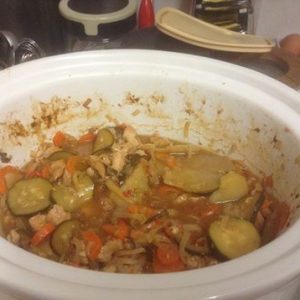 Chick "n" Bits
Chicken and vegetable combination in flavour packed sauce
Ingredients
3 large chicken thighs cut into small pieces.

2 potatoes,

2 zucchinis,

1 leek,

3 carrots,

6 mushrooms,

2 small capsicums,

1 brown onion.
Instructions
All vegies sliced thinly and layered twice.

Chicken put on top.

Sauce is quarter cup of worcestershire sauce,

half a cup sweet chilli sauce,

1 tablespoon soy sauce

and make up to one cup with water.

Cooking on high at the moment 5 hours?