Submitted by Chelsea Limmer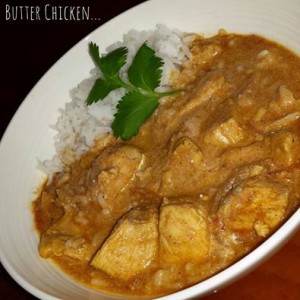 Butter Chicken
Ingredients
12 chicken thigh cutlets, skin removed (I used chicken breast)

2 tbsp lemon juice

1 tsp chilli powder

200g greek yoghurt

5cm piece fresh ginger, grated

2 tsp garam masala

45g butter

1 tbsp vegetable oil

1 medium brown onion, chopped finely

4 cloves garlic crushed, chopped

1 tsp ground coriander

1 tsp ground cumin

1 tsp sweet paprika

2 tbsp tomato paste

400g canned crushed tomatoes

2/3 cup chicken stock

2 tbsp honey

1 cinnamon stick

1/3 cup pouring cream

1/3 cup ricotta cheese

1/2 cup loosely packed coriander
Instructions
1. Combine chicken, lemon juice and chilli powder in a large bowl. Cover and refrigerate for 30 minutes. (While that is cooling. Prepare the rest of the recipe)

2. Stir in yoghurt, ginger and half of the garam masala into chicken mixture.

3. Heat butter and oil in a frying pan; cook chicken, in batches, until browned all over, stirring, until onions soften. Add remaining garam masala and ground spices; cook, stirring, until fragrant. Remove from heat; stir in tomato paste, crushed tomatoes, stock, honey and cinnamon. Transfer to slow cooker. Cook, covered, on low for 4 hours.

Stir in cream, season to taste.

Serve topped with ricotta and coriander leaves.