Submitted by Jill Hoel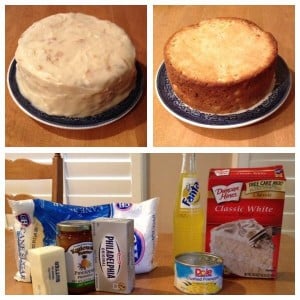 Pineapple Cake
Ingredients
Cake Ingredients

1 Duncan Hines Classic White Cake Mix 16.5 oz

8 oz Dole Crushed Pineapple

1/2 cup (4 oz) Fanta Pineapple Soda

Frosting

8 oz Cream Cheese

1 Stick of Butter (unsalted)

1 cup Powdered Sugar

1 Tsp Vanilla

1 heaping Tbl Spoon of Pineapple Preserves (Jam)
Instructions
For the cake, mix 1 box cake mix, 1 can of 8 oz of crushed pineapple (don't drain, not much liquid anyway), 1/2 cup (4 oz) of Fanta Pineapple Soda (other sodas may be substituted), stir until mixed. I use baking Pam on my silicone pan, so it doesn't stick. Pour cake mixture into silicone pan. I used a silicone pan that is 7" around and 2" deep. I place it on a round metal rack inside my slow cooker. I used a 6 qt oval Crock Pot to bake this cake. I cook it dry, with no water at the bottom of the crock. I did however place a tea (aka dish towel) towel under the lid to catch any condensation.

Maybe as my silicone pan is 2 inches deep, it took 2 1/2 hours to cook to fully set on high. Start checking on it after an hour though as cooking times may vary depending on pan used and with the use of different slow cookers.

For the frosting I made a cream cheese frosting with 8 oz cream cheese softened, 1 stick of unsalted butter softened, 1 cup of powdered sugar, 1 teaspoon of vanilla and mixed that together until smooth and then added one heaping tablespoon of Pineapple Preserves (Jam) mixed in, which gave the icing a nice pineapple flavor.

Frost after the cake has fully cooled.