Submitted by Karen Stuckings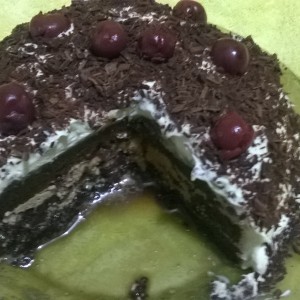 Black forest cake
Ingredients
Cake
1 and 2/3 cups self raising flour

2/3 cup cocoa powder (drinking chocolate could be used if wanting sweeter cake)

1 ½ teaspoon bi-carb soda

1 teaspoon of salt

115 grams unsalted butter

1 ½ cups sugar

2 eggs

1 teaspoon vanilla

1 ½ cups of butter milk
Filling
½ cup Kirsch (cherry juice can be used for non-alcoholic version)

115 grams unsalted butter

3 cups icing sugar

Pinch salt

¼ cup espresso

700 grams cherries (Fresh, jar or tin ones can be used but make sure you drain well if not fresh)
Icing
2 cups thicken cream

2 tablespoons milk powder

2 tablespoons icing sugar

½ teaspoon vanilla

1 tablespoon Kirsch (cherry juice can be used for non-alcoholic version)

½ cup shaved dark chocolate (I used a vegetable peeler)
Instructions
Pit cherries, put some aside for decoration. Place pitted cherries in a jar and pour in cup Kirsch. Soak overnight.
Cake
Cream butter and sugar. Add eggs and vanilla and mix well. Add half of sifted dry ingredients and half of butter milk, mix well. Add rest of dry ingredients and butter milk, mix well.

Pour into a lined cake tin and place in slow cooker with about inch of water in the slow cooker insert raising the tin out of the water.

Cook on high for 2 1/2 hours with tea towel under lid or until skewer comes out clean. Times vary according to your sc.

If you wish you can divide into 3 bowls to save slicing later but cooking time will be less.

Once cooked allow to cool then cut 3 even slices as you will be layering the cake. Place your slices on tray and prick tops with skewer. Take the Kirsch from the jar of cherries and pour over your cake.
Filling
Beat butter until light and creamy, add icing sugar, salt and espresso, mix well.
Construct cake
I recommend that you construct your cake in your cake tin that you used so that it keeps its shape. Place bottom layer in cake tin and spread half filling over. Cut cherries in half and spread half of them over filling. Place another layer of cake, spread rest of filling mixture over and rest of cherries. Place top layer on. Refrigerate for a day or two.
Icing
Whip cream until peaks stiff peaks form. Fold in milk powder and icing sugar. Add vanilla and Kirsch and mix. Tip cake onto a plate. Cover cake in your icing mixture and decorate with dark chocolate shavings and cherries.