Submitted by Gina Jackson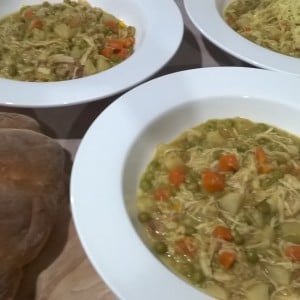 Bestest Chicken Soup Ever!
Ingredients
4 whole chicken breasts,

8 chopped rashers of bacon,

1 large onion,

2 cloves crushed garlic,

2 cups chopped potato,

1 cup of each of the following: Peas, carrots, celery, corn.

4 cups chicken stock

and salt n pepper to taste.
Instructions
Put the chicken breasts in whole, then chop up your veges, bacon and garlic and pop in slow cooker.

Add salt and pepper and chicken stock. And turn onto low for 9 hours.

That's it, easy as and super tasty!

Pull apart the chicken breasts with a fork about 30 min before serving.

Home made soups always good with home made bread too!