Submitted by Gina Jackson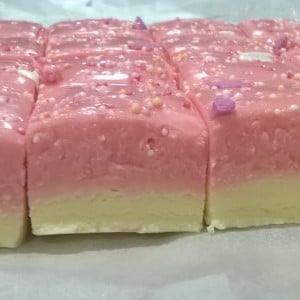 Marshmallow Fudge
Ingredients
Ingredients list will need to be double if you wish to make both pink and white layers of fudge.

600g white chocolate

1 tin condensed milk

1 tablespoon butter (optional, but the butter makes it glossy)

2 cup of marshmallows

And a few drops of red food colouring.
Instructions
Place the white chocolate and condensed milk in the slow cooker.

Turn onto high for approx 30 min till choc melts down.

Then turn onto low and add marshmallows and food colouring.

Continue to cook for another 20-30 min or until marshmallows have melted.

Then pour into a tin and set in the fridge overnight.

NOTE: To achieve the 2 layered look I did in the pic, make the first batch and add white marshmallows, continue as recipe says. Then cool in fridge while making the second batch and add pink marshmallows and a few drops of food colouring.