Easy recipe. Quick preparation and delicious…
Submitted by RitaVella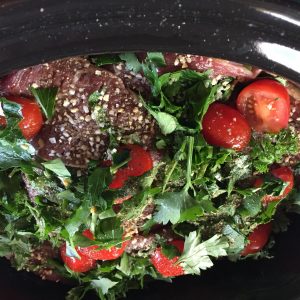 Beef with tomatoes in gravy
Easy recipe. Quick preparation and delicious...
Ingredients
1.7 kg BBQ steak/Round Steak

5 medium Tomatoes sliced

Garlic dried or fresh

3/4 bunch parsley (more or less - up to you) chopped

Gravy powder- to thicken juices.

Cracked pepper.

Salt optional.

DO NOT ADD WATER as there will be a lot of juices from meat and tomato.
Instructions
Layer meat, tomatoes, garlic, parsley, until all finished.

Sprinkle pepper and a little salt on top.

Place lid on slow cooker.

Turn on high for around 5-6 hours

Once meat is tender place a few teaspoons of Gravy powder in a bowl and mix with the juices of the meat and tomato

Move the meat so the sauce thickens.

Serve on Mashed Potato or your favourite vegetables or chips.