Submitted by Simon Christie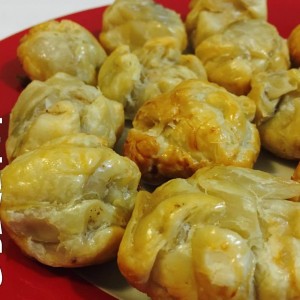 Apple and Sultana snack bites
Ingredients
1 green apple cored and diced (1cm)

100g sultanas

1 teaspoon cinnamon or nutmeg

2 sheets puff pastry

1 egg beaten
Instructions
Follow puff pastry instructions as per packaging.

Slice pastry into nine equal parts.

Position Apple and sultanas onto each portion.

Sprinkle chosen spice over whole sheets.

Fold and seal each portion into snack sized bites.

Brush each snack bite with egg.

Place into cooker on spray oil or baking paper.

Turn cooker on HIGH for 1.5 hours.

Place lid on with tea towel.
Notes
This recipe can be layered using a trivet with extended leg height.

7 litre Breville Flavour Maker