Submitted by Carol Wilkinson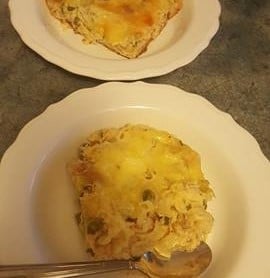 ~~Creamy Chicken Dinner~~
Ingredients
1 whole cooked chicken

1 large red onion diced

2 sticks celery diced

1 tbsp parsley chopped

1 cup frozen peas

2 cans cream of chicken soup

600 mls thickened cream

1 cup motzarella grated

1 cup of spiral noodles

Tortillas (if making into a pie)

Extra cheese
Instructions
Firstly skin & de-bone the chicken.

Shred the chicken & place in large bowl.

Then put all the ingredients in a large bowl except extra cheese.

Put the mixture evenly into 2-5 litre slow cookers.

But i oil sprayed 1 & lined it with 5 tortilla wraps to make a pie casing.

Then put the other directly into the other.Sprinkle on the extra cheese.

Cook on High for approx 2 hrs-30 mins hrs.

With the tortilla one take the lid off after approx 2 hrs, to crisp up the tortilla.

Just remember everyone's slow cookers are a bit different.
Notes
You can also make it without the spiral pasta in the mix & just make up spaghetti pasta on stove top.And make a chicken bolognaise.

I created this dish because i brought 2 bbq chickens, and 1 of them with had with a salad & i cooled & froze the other.Then when i got the other one out i thought what could i make this time. So i sat & pondered & wrote down what would go nicely with this chicken & whammo!! It turned out amazing. So i this this is going to be another Family favourite. It makes up quite a lot ?