Submitted by Kelly Hicks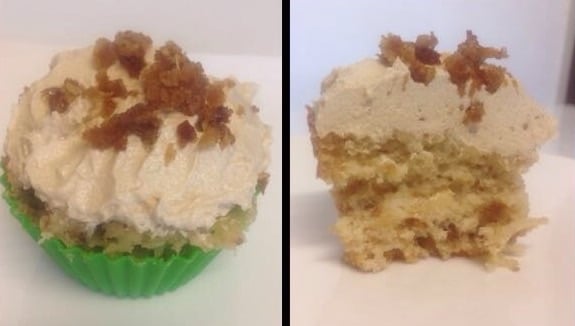 Anzac & buttermilk cupcakes with salted caramel and buttermilk icing
Ingredients
The cupcakes were-

3 Anzac biscuits crumbled up

1 packet of Coles buttermilk cake mix

160ml milk

1 egg

2 tablespoons of caramel syrup

Icing was-

4.5 tablespoons of butter

1/2 cup of brown sugar

1/2 cup icing sugar

2 tablespoons of caramel syrup

1/2 teaspoon of salt
Instructions
Combine 3 crushed Anzac biscuits, caramel syrup, buttermilk cake mix (I used Coles brand) with 160ml of milk and 1 egg (or whatever your packet asks for). Spoon into cupcake moulds and cook on high for 1 hour with a tea towel under the lid.

Once ready place on a rack to cool and prepare your icing.

Using a mixer blend the butter for 5 minutes, add the brown sugar and blend for another 5 minutes, icing sugar and blend for another 10 minutes, caramel syrup and salt and blend for another minute. Spoon icing onto cupcakes and crumble 2 Anzac biscuits over the top.