Submitted by Kelly Hicks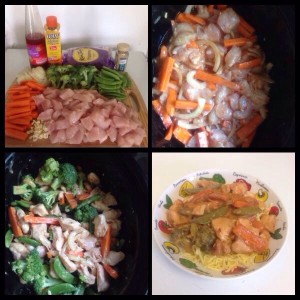 Sweet Chilli Asian Chicken
Ingredients
4 diced chicken breast

1/2 a small head of broccoli

2 cloves of garlic diced

3 carrots diced

1 onion diced

200g snow peas

Cornflour to coat the chicken

Sauce-

1/4 cup hoi sin sauce

1/4 cup sweet chilli sauce

1 teaspoon of ginger

1 teaspoon of chicken stock in 120ml water

2 tablespoons of honey
Instructions
I diced all ingredients and coated the chicken in cornflour.

Add the chicken, garlic, onion and carrot to the slow cooker and pour over sauce.

Cook for 4hrs on low

Add the broccoli and snow peas 1 hour before serving.

I served on Singapore noodles but would also be good on rice.