Submitted by Sherrie Sutcliffe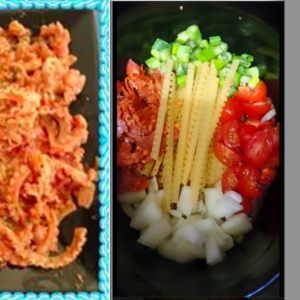 1 Pot Creamy Fettuccine
Ingredients
1 cup chicken stock

250 g curly fettuccine, snapped in half

500 g bottle of pasta sauce (any sauce)

100 g chorizo sausage (pre-cooked)

1 cup cherry tomatoes

1 cup shallots

1 cup onion

½ teaspoon garlic and Italian herbs

1 cup water

½ cup sour cream

1 cup grated cheese

1 Tablespoon brown sugar
Instructions
Pour the bottle of pasta sauce and chicken stock into the slow cooker.

Add fettuccine, tomatoes, chorizo, onion, shallots, garlic and herbs.

Pour over rest of pasta sauce along with 1 cup water and sprinkle with brown sugar.

Cook for 2hrs on high

Just before serving add sour cream and stir through.

Then top with cheese until melted.