Submitted by Robyn Clark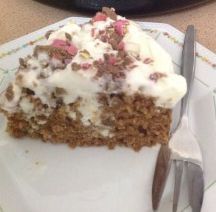 White Chocolate Easter Carrot Cake
Ingredients
1 1/2 cups SR. Flour

1 teaspoon bicarb

1 teaspoon mixed spice

1/4 teaspoon cinnamon ( optional)

1 grated carrot ( finely grated large carrot or 2 small carrots )

1/3 cup vegetable oil.

2 eggs.

1/2 packet of milk button chocolate.

1/2 packet of mini eggs ( I used Cadbury )

Cool Whip Substitute ( recipe from Internet )

1 1/2 teaspoons gelatine

2 tablespoons cold water

1 1/2 cups whipping cream

1/2 teaspoon vanilla

1/4 cup icing sugar.

Add water and gelatine in a small bowl , mix and let sit for 1 min.

Place the gelatine mixture in the microwave for 30 sec until it's liquid.. Allow to cool but not to set.

Add cream to a cold bowl and beat 1 min then add vanilla and icing sugar and beat a further minute. Add the gelatine mixture and whisk until the cream holds its shape ( doesn't take long, don't over beat or the cream will split)
Instructions
*** Double the recipe for a larger cake.

Combine all ingredients thoroughly and beat about 3 mins.

Pour into a lined round cake tin and slow cook for 2 hours on high.

Allow cake to cool for 10 mins and then poke holes evenly all over the cake. I used a wooden spoon handle. Melt the white chocolate buttons and pour over the cake making sure it gets into the holes. I had enough chocolate that I left a thin layer over the top of the cake too. ( you can also make white chocolate fudge and fill the holes with it if you prefer) .Allow cake to cool completely.

Make up cool whip according to the directions and spread over the cake or pipe over.

Decorate with crushed up mini eggs.