Submitted by Tara Astill with special mention to Amy Blore for inspiring the recipe.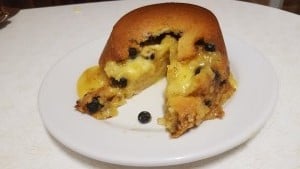 Vanilla, white choc & blueberry lava cake
Ingredients
1 Vanilla cake mix.

1/2 Vanilla instant pudding. (Make whole packet and refrigerate other half to serve with)

Handful White chocolate buds.

Handful dried blueberries.
Instructions
grease insert of 1.5lt slow cooker with canola oil spray.

mix cake mix as per instructions, add to slow cooker.

add blueberries on top of cake mix.

mix instant pudding as per instructions, add half to the slow cooker on top of blueberries and cake mix.

add white chocolate buds on top of pudding.

place cotton tea-towel over insert and place lid on top.

cook on high setting for 20 minutes, then switch to low for 1.5 hours or until springs back on top.

run a sharp knife around edges to loosen and turn out onto a plate.

serve warm with remaining vanilla pudding and vanilla ice-cream.
Notes
When using a larger slow cooker, place ingredients in a cake tin, put an inch of water in the slow cooker and place 2 egg rings under the cake tin to keep it suspended in the water, off the bottom of the cooker.