Submitted by Tara Astill.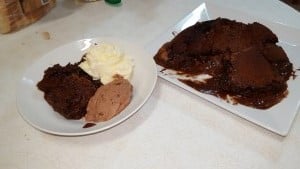 Chocolate Mars & Mousse cake
Ingredients
1 chocolate cake mix

2tbsp vegetable oil

8 mini Mars Bars

1 packet instant chocolate mousse
Instructions
prepare a 1.5lt slow cooker ( don't turn on til all ingredients are in sc)

mix cake mix as per instructions.

add oil to cake mix (unless cake mix already calls for oil, don't double up).

spray sc insert with canola spray and add cake mix.

chop mars bars into small pieces and sprinkle over cake mix.

mix mousse as per instructions and dollop half the mix on top of the cake mix and mars pieces.

cover sc with a tea towel and place lid on top.

cook on high for 20 minutes then switch to low for 1 hr 40 mins or until cake is cooked through.

when cooked, run a sharp knife around edges to loosen, place a plate on top of the insert and flip over.
Notes
Serve hot with left over choc mousse and vanilla ice-cream.

Be sure to rotate slow cooker if using a 1.5lt to avoid burning due to a hot spot. Rotate every half hour.