Submitted by Jo Coleman Kors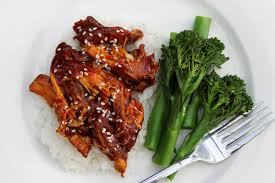 Sticky Honey Soy Chicken
Ingredients
1kg chicken fillets

Salt & pepper

1/2 cup honey

1/4 cup soy sauce

1/8 cup tomato sauce

1 brown onion

1 tsp. crushed garlic

Dried chilli flakes (optional)

2 tsp. cornflour

Sesame seeds to garnish
Instructions
Turn slow cooker onto high setting. Put flour, salt & pepper in a sandwich bag and coat chicken breasts. Transfer chicken to slow cooker, discard flour. Slice onion and add to slow cooker.

In a small bowl mix together honey, soy sauce, tomato sauce, garlic and chilli flakes. Mix thoroughly and pour over chicken.

Cook on high for 4-6 hours or until chicken is thoroughly cooked and sauce has darkened. Once cooked, remove chicken from slow cooker and shred into large pieces and return to slow cooker. Stir thoroughly to coat chicken in sauce. Alternatively you can skip this step and serve chicken breasts whole.

If you feel like the sauce needs thickening, dissolve cornflour in small amount of water and add to slow cooker. Allow to simmer for approximately 10 minutes.

Serve with steamed rice and sprinkle chicken with sesame seeds.