Submitted by Daphne Baldock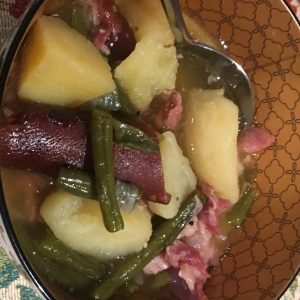 Slow Cooker Green Beans, Ham and Potatoes
Ingredients
1k lb fresh green beans, rinsed and trimmed

1 large onion, chopped

3 ham hocks

750gr potato, quartered

1 tsp garlic powder

1 tsp onion powder

1 tsp seasoning salt

1 tbsp chicken stock powder - I used Vegeta

1 ground black pepper, to taste
Instructions
Put the hocks in the slow cooker and add boiling water - about halfway up the crock.

(Admin Note: if your bowl is ceramic it's best to preheat it with some hot tap water first then discard this water, so that you are not adding boiling water to a cold ceramic pot which can cause it to crack)

Cover and turn HIGH for 1 hour.

Prep beans, snap in halves if large, put in with the hocks along with the onion. Reduce heat to Low and cook for 2 hours until the hocks are easy to pull apart. take out the hocks and pull the meat off the bones, and put back into the pot. I put the skin back in to keep the flavour going.

Add potatoes and and spices (do a taste test for how much salt to add in). At this stage I put the bones back in as well...but this is not necessary if you don't want too. Cook another 45 minutes until potatoes are done.

To serve, use a slotted spoon to put beans, potatoes, and ham into a serving dish with a little broth.

I did add a bit more water at the end as it was a tad salty - for me...