Submitted by Faith Bennett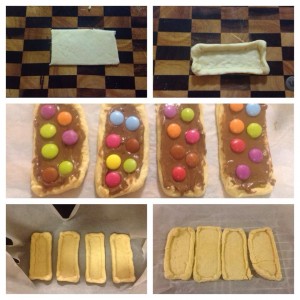 Skudoo's
Ingredients
Base dough
2 cups self raising flour,

1 cup if thickened cream,

2 tablespoons of caster sugar.
Fudge filling
600g Chocolate

1 tin condensed milk

1 tablespoon marg/butter

1 tablespoon vanilla essence

Smarties to decorate
Instructions
Make dough base by mixing flour, sugar & cream together to make a dough.

Roll out cut into rectangles

Fold sides & ends over to make edges.

Bake in slow cooker for an hour & a half on high (tea towel under lid)

Let cool.

Make fudge

Melt chocolate, condense milk, marg/butter, & vanilla essence in slow cooker on high for about an hour

Stir every 15-20 minutes.

Spoon fudge mixture into cooked & cooled bases

Decorate with smarties

Put in fridge till set.

Put remainder of fudge in lined tray & put in fridge to set.