Submitted by Denise Roberts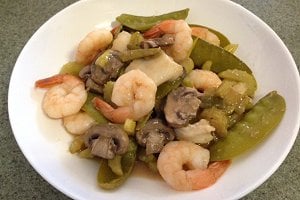 Seafood with Snow Peas and Ginger
Ingredients
1 TBL Salt

2 Cups Cold Water

200g Prawns (peeled and deveined)

200g White Fish (cubed)

1/3 Cup Chicken Stock

2 tsp Rice Wine (Substitute - Dry Sherry)

1 & 1/2 tsp Soy Sauce

2 tsp Cornflour

3/4 tsp Sugar

1/8 tsp White Pepper

3 TBL Minced Garlic

2 tsp Minced Fresh Ginger

170g Snow Peas (strings removed)

2 Celery Stalks (sliced)

4 Mushrooms (sliced)

1 Spring Onion (sliced)

1/4 teaspoon salt
Instructions
In a large bowl, dissolve salt in water. Add prawns, and set aside 5 minutes. Rinse prawns, and dry on paper towels.

Combine stock, rice wine, soy sauce, cornflour, sugar, and pepper. Add to slow cooker.

Add everything except prawns and fish. Combine with sauce and cook on low for 1 hr.

After 1 hr add seafood and stir. Continue to cook for 40 mins on low.

Once seafood is cooked, serve.