Slow cooked stew with Kangaroo tail and vegetables
Submitted by Jo Bleakley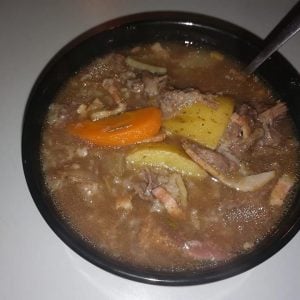 Roo Tail Soup
Slow cooked stew with Kangaroo tail and vegetables
Ingredients
1 large roo tail, cut into pieces

4-5 potatoes, cut into chunks

3 carrots cut into chunks

1 sprig of rosemary

3 sticks of celery

A whole bulb of garlic

1 litre of beef stock

A dash of Worcestershire sauce

A squeeze of honey mustard

chopped bacon

Salt and pepper to taste

Half a cup of rice
Instructions
Put all ingredients into the slow cooker.

You may need to add more stock or a little water, if the liquid doesn't cover the ingredients

Cook on high for 6-7 hours, or on low for 8-9.

Pull the tails out, strip the meat off and return it to the soup.