Submitted by Sherrie Sutcliffe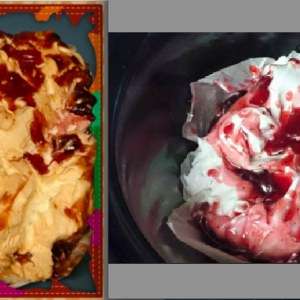 Raspberry Swirl Pavlova
Ingredients
6 egg whites

1 ¼ cup caster sugar

1 teaspoon vanilla

2 teaspoons cornflour

1 teaspoon vinegar

Pinch of cream of tartar

1/2 cup raspberry jam
Instructions
Separate egg whites; whisk till soft peaks. Slowly add sugar; beat for 10 minutes till sugar has dissolved.

Add the rest of ingredients; beat still stiff peaks.

Its only ready to cook when can tip the bowl on your head and it doesnt come out. LOL.

Add baking paper to slow cooker, pour in pavlova and melt raspberry jam and swirl it on top of pavlova allowing it to drip down the sides and then cook 2hrs on low with TEA TOWEL under lid.