Submitted by Janelle Wood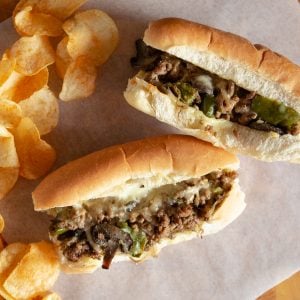 Philly Cheesesteak
Easy Philly cheesesteak recipe without breaking the budget! Cooked entirely in a slow cooker, no oven or grill required.
Ingredients
500g minced beef

200g sliced button mushrooms

1 green capsicum

1 onion

1 tsp garlic powder

1 tsp onion powder

1/2 tsp salt

1/2 tsp white pepper
To Serve
200g mozzarella cheese (or provolone if you can get it)

6 long rolls (I used hot dog rolls)

Butter for rolls (optional)
Instructions
Cut onion in half and slice finely, place in bowl of slow cooker with the mince and break up the mince with a wooden spoon.

Mix in the garlic and onion powders, salt and pepper.

Slice the four sides from the capsicum and then chop into short sections about 1cm wide.

Gently mix the capsicum and mushrooms into the mince.

Cook on low for 5-6 hours.

Once the mince mix is ready, scoop it into a large bowl using a slotted spoon and discard the fat.

Cover the mince with foil while you clean the slow cooker bowl (either wipe it with paper towel or wash and dry it before replacing in the slow cooker.)

Slice your rolls in half and lightly butter (optional).

Assemble your rolls, putting cheese on the bottom, mince mixture on top of that, then more cheese on the top of the mince.

Carefully place each roll into the slow cooker.

Heat on high for 30-45 mins (depending on how crusty you like your rolls and how hot your slow cooker is) using the tea towel trick.

Serve on their own or with a side of hot chips.
Notes
You can delay adding the capsicum and mushrooms until the mince has been on for around 2 hours if you wish the capsicum to retain more colour, but not necessary.

I found this feeds two adults and two kids, or three adults. There was mince left over so if you have a bigger family just add another two rolls and more cheese.